Effortlessly learning Dutch: It may sound too good to be true, but it is possible. 
How? 
The solution is really quite simple: Engage in some passive listening. 
Instead of cramming endless vocabulary words and grammar rules into your memory, you can just sit back and listen to something that interests you. As is the case with Dutch movies and series, you can use Dutch podcasts to efficiently practice your listening comprehension and improve your language skills. The key here is to listen to podcasts on a regular basis, as this will give you natural exposure to the language every day. 
Podcasts are very popular these days as they give you the opportunity to listen to something while doing simple daily tasks (cleaning, cooking, walking, commuting to work, etc.). This regular passive listening will help you learn new words and idioms, and it will help solidify the grammar structures you've already learned.
There are many different podcasts you could use to learn Dutch, and you can find them on a variety of platforms: Spotify, the internet, or even your phone's podcast app. 
In this article, we'll show you the benefits of using podcasts to learn Dutch, list seven of the best podcasts for doing so, and even give you some handy tricks and tips. 
Put on your headphones and get ready to improve your Dutch!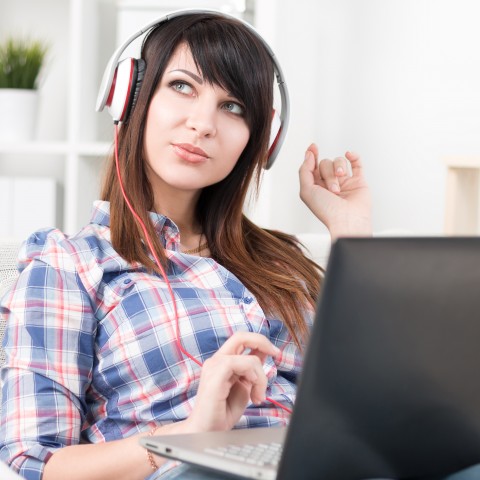 Let's start listening to podcasts and learn some Dutch along the way.
Table of Contents
1. Benefits of Using Podcasts to Learn Dutch
Practice when it suits you.
Improve your listening skills.
Reinforce correct pronunciation.
Consolidate your understanding of grammar as you hear different structures in context.
Enrich your vocabulary on the topics of your choice.
There are many ways to learn Dutch: taking classes, downloading apps, going through long vocabulary lists, doing fill-in-the-blank exercises… These are all reasonable approaches to learning Dutch, but in this day and age, there is so much more you can take advantage of—such as podcasts!
So, what are the benefits of listening to podcasts in Dutch? How can it help you learn the language? Let's see!
→ How do you motivate yourself when learning a language? If you're having trouble keeping yourself motivated, have a look at this vocabulary list to find some useful tips.
1 – Optimize Your Time
Practice makes perfect, so it's necessary to get some daily exposure to the Dutch language if you want to improve. In addition to the primary method or program you're using to study, the simple habit of listening to Dutch every day in your car, on the bus, or while doing the dishes will contribute greatly to your learning progress.
Listening to podcasts in Dutch will allow you to study during those short gaps in your busy schedule. This could be when you're on the metro, on your lunch break, or while exercising. As such, you'll be able to study regularly and spread your Dutch learning throughout the day.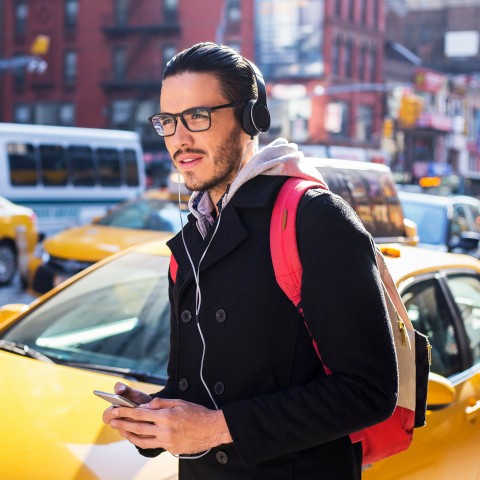 Listen to Dutch podcasts while commuting.
2 – Different Levels, Different Perks
Because there are so many Dutch podcasts out there, you'll always be able to find podcasts suitable for your current level. 
As a beginner, you may want to stick to podcasts designed for Dutch learners, as other Dutch podcasts may be difficult for you to understand. Listening to podcasts early on gives you a good sense of how the language sounds and will help you with your pronunciation.
Intermediate learners can dip into Dutch podcasts that focus on subjects outside of language learning. They can use podcasts to enhance their grammar skills, learn new vocabulary, and get more comfortable with Dutch in general. 
Advanced students may benefit the most from podcasts, especially since they'll be able to listen to the massive amount of content out there for native Dutch speakers. You'll have many Dutch podcasts to choose from and can listen to those that cover the topics you most enjoy.
→ Do you like listening to Dutch podcasts but need to improve your Dutch listening skills for a better experience? Have a look at our vocabulary list How to Improve Your Listening Skills for some pointers.
2. The Best Dutch Podcasts
As mentioned, there are many Dutch podcasts you can choose from. Some of them are specifically designed with Dutch learners in mind, while others are geared toward native Dutch speakers and cover a variety of topics. 
So, what are the best podcasts for learning Dutch?
Level:

(True) Beginner

Theme: Teaching Podcast
Free
The great thing about the One Minute Dutch podcast is that each episode is only a couple of minutes long and teaches very basic Dutch concepts. There are ten short episodes that cover things like numbers, greetings, and how to introduce yourself. It's one of the best Dutch podcasts for beginners as it introduces listeners to all the basics they need to get started. 
Level:

Intermediate

Theme: Teaching Podcast
Free
Zeg Het in Het Nederlands ("Say it in Dutch") is an intermediate-level Dutch language learning podcast that will help you improve your Dutch listening and interpretation skills. In this podcast, the narrators speak Dutch at a slow pace, and there's even a full PDF transcript so you can follow along with the dialogue. The podcast covers a range of topics, including politics, sports, and entertainment. The episodes aren't that long (usually under 20 minutes), so you can easily combine them with your daily activities.
Level:

Advanced

Theme: News
Free
This Dutch news podcast is produced by the Special Broadcasting Service (SBS), an Australian multimedia network that has a Dutch radio and podcasting program. SBS Dutch gives listeners a range of Dutch content focusing on both international and local news. You'll have access to interviews, features, community stories, and news stories in Dutch so that you can strengthen your listening skills, broaden your vocabulary, and improve your pronunciation. 
There are many episodes available, and SBS frequently uploads new ones so you'll always have new content to listen to. As most episodes are relatively short (between 5 and 15 minutes long), it's the perfect way to catch up with the latest news while improving your Dutch.
Level:

Absolute Beginner

to

Advanced

Theme: Teaching Podcast
Free content + Premium and Premium PLUS subscriptions
DutchPod101 has a great collection of podcast episodes for learners at every level, from absolute beginners to intermediate and advanced students. There are lessons explaining basic Dutch-language concepts, depicting common daily situations, and teaching first-hand information about the country. At DutchPod101.com, you can also complement these podcasts with grammar points, exercises, quizzes, vocabulary lists, and even personal coaching. As there are podcast episodes for every level, you can make use of DutchPod101 throughout your entire Dutch language learning journey.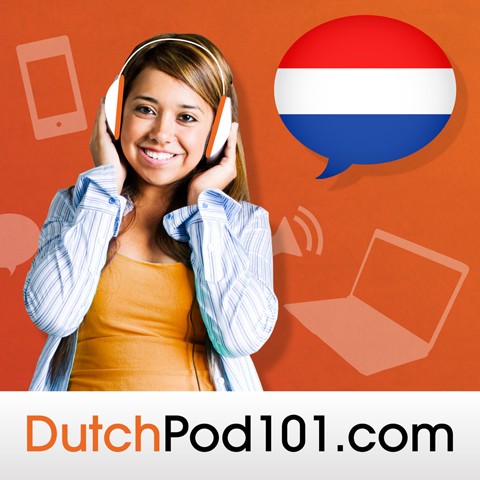 Discover the benefits of DutchPod101!
Level:

Advanced

Theme: Stories
Free
This is a great podcast for more advanced Dutch learners. The man met de microfoon ("man with the microphone") drives around Amsterdam by bus in search of exciting stories from strangers. No two stories will be quite the same, as they depend on the people he encounters on the streets. This show is hosted by Chris Bajema, and each episode is around 15 minutes long. 
Level:

Advanced

Theme: Stories
Free
Echt Gebeurd ("True Story") is a Dutch podcast hosted by comedians and writers. It focuses on people telling true stories that are a bit unbelievable. This podcast features a wide range of storytellers recounting funny, beautiful, surprising, and special events that have really happened to them. For advanced Dutch students, it's a fun way to challenge their Dutch skills. There are many episodes to choose from, and new ones are uploaded weekly. The episodes are about 10 or 15 minutes long, so you can perfectly combine them with your daily activities.
Level:

Intermediate

to

Advanced

Theme: History and Stories
Free
Are you learning Dutch but plan to use these language skills in Belgium? This podcast offers you a way to improve your Flemish skills. The podcast is relatively new and doesn't have a lot of episodes yet. However, it tells you stories about Flemish history, and you'll be able to listen to correct Flemish accents, intonation, and vocabulary. It's a great way to improve your Flemish listening, comprehension, and pronunciation skills. 
3. Tricks to Help You Learn Dutch More Effectively with Podcasts
How can you learn Dutch by listening to podcasts?
Now that you have a list of the best Dutch podcasts for learners, you're ready to start listening. But how can you really take advantage of these podcasts to learn Dutch effectively? 
Pick the right podcast for your level.
Although it sounds very obvious, it's important to choose the right podcast for your level so that you don't get discouraged. It's better to start off easy so that you can get motivated and ready for more. You can always move on to some more challenging content later.


Select the right topic for you.
If you find a Dutch podcast with a theme that you really enjoy, you'll be more likely to stick with it and come back for more. Of course, it's mainly the advanced students who have the luxury of choice and can choose the topics they're most passionate about. 
Try out several podcasts.
There are many podcasts out there, and it's likely that you won't find the perfect program from Day One. Try out different podcasts to see which one matches your level and tastes. This will also expose you to more than one voice and accent.


Daily exposure is key.
Try making your podcast listening part of your routine. For example, you could try always listening to them while commuting or washing the dishes. If you can find the time for a daily podcast session, you will get that necessary exposure to really improve your Dutch. You can combine your podcast listening with many activities, but try to avoid too much multitasking as your ears and brain should be fully available.


Don't forget to mix it up.
Passive learning has many benefits, but you'll benefit more if you combine it with other language learning methods. So mix it up and combine those Dutch podcasts with the classic grammar and vocabulary work. Use podcasts as a complementary activity and not as your main (or only) Dutch language learning tool.
4. How DutchPod101 Can Help You Learn More Dutch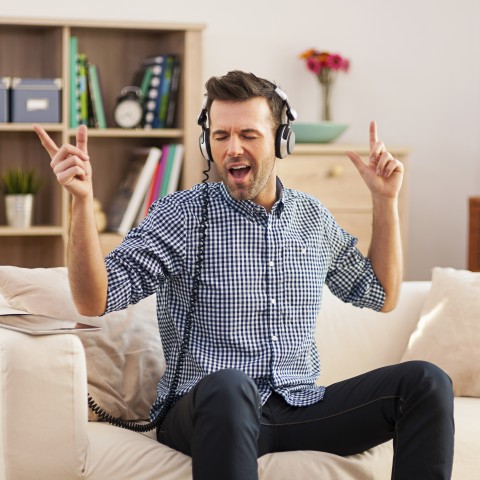 Let's start learning Dutch while having fun!
In this guide, you've learned how to boost your studies by using podcasts to learn Dutch. We have shown you our picks for the best Dutch podcasts, and we have given you some tips and tricks to apply for the best experience. 
Are there any other amazing Dutch podcasts you're following? What do you think is the best podcast for learning Dutch? 
Don't forget to combine those Dutch podcasts with other language learning methods, such as our vocabulary lists with audio recordings (and other free resources). With DutchPod101, you can really keep your Dutch learning fun and diverse.
Would you like some special attention? Remember that we also offer a Premium PLUS service with personal 1-on-1 coaching: MyTeacher. Let your private teacher help you with Dutch grammar, vocabulary, pronunciation, and much more. You'll receive personalized exercises, constructive feedback, and interactive assignments.
Happy learning on DutchPod101.com!