Have you ever heard Het Wilhelmus, the Dutch national anthem? It's one of the oldest anthems in existence, and therefore the lyrics are not always easy to understand, full of old-fashioned words and unusual turns of phrases. It's an anthem of fifteen verses, but mainly the first (and sometimes also the sixth) verse is sung. However, because of the old nature of the Dutch anthem, not all Dutch know the words or understand the meaning. Why is the Spanish king mentioned in the Dutch national anthem? And what about that mention of German blood? 
As you can see, the Dutch anthem is not free of controversy, and some people even say that it should be changed. However, although the Dutch don't sing their national anthem very often, when they sing it on special occasions, everybody will sing along, even those that don't know all the words, as you can always mumble or hum along.
In this article, we will first show you the history of the Dutch national anthem. We'll then talk about its lyrics, the meaning of the Dutch anthem, and the criticisms it has received.
Table of Contents
1. The History
Before we have a look at the lyrics of the Dutch national anthem, it might come in handy to first learn more about its history. This way you will be able to understand better what it's all about.
So, the Dutch national anthem is actually one of the world's oldest patriotic songs, as it dates back to at least 1572. The lyrics were written at the beginning of the Eighty Years' War (1568-1648), also known as The Dutch War of Independence. The Dutch anthem, therefore, tells the story of Willem van Oranje ("William of Orange") and his fight against the King of Spain in order to gain independence for the Netherlands. The anthem is written from William's perspective and follows his struggle to remain loyal to the Spanish king, who he has always served, while also serving God and leading his people in the fight against persecution.
But who is Willem van Oranje? He is also known as Willem van Nassau, or in old Dutch Wilhelmus van Nassouwe, which explains the title of the Dutch anthem. He was one of the main leaders of the Dutch revolt against the Spanish that set off the Eighty Years' War and resulted in the formal independence of what now is known as (part of) the Netherlands. He is, therefore, also known as Vader des Vaderlands ("Father of the Fatherlands"). Besides this, he is also the founder of the Orange-Nassau royal family, which makes him the ancestor of the Dutch monarchy. 
It took some time before Het Wilhelmus officially became the Dutch national anthem. At the beginning of the 19th century, the song was mainly sung by supporters of the Dutch royal family. However, they were not particularly popular during this period. So, when Het Wilhelmus became the official Dutch national anthem in 1932, there were protests. 
But what changed in the following years? During the Nazi occupation of the Second World War, the Dutch national anthem regained popularity. This song of victory served as a way to express Dutch national pride and solidarity.
2. Explaining the Lyrics of Het Wilhelmus
So, as you now know the history of the Netherlands' national anthem, it's time to have a look at the lyrics of Het Wilhelmus. 
1- The Lyrics
The Dutch anthem has an impressive fifteen verses; the first letter of all verses originally formed the word Willem van Nassov, another old Dutch way to say Willem van Nassau. However, the Dutch only sing one or two verses of the anthem. It's mainly the first verse that is sung, sometimes followed by the sixth verse.
Also you may notice, even in the contemporary Dutch version, some of the words have been changed so that they fit the rhythm or so they rhyme. So, don't worry if you can't always figure out some of the words.
Verse 1
Old Dutch
Contemporary Dutch
Translation
Wilhelmus van Nassouwe
Ben ick van Duytschen Bloedt,
Den Vaderland ghetrouwe
Blijf ick tot inden doet;
Een Prince van Orangien
Ben ick vry onverveert.
Den Coninck van Hispangien.
Heb ick altijt gheeert.
Wilhelmus van Nassouwe
Ben ik van Duitsen bloed
Den vaderland getrouwe
Blijf ik tot in den dood.
Een Prinse van Oranje
Ben ik, vrij onverveerd.
Den Koning van Hispanje
Heb ik altijd geëerd.
"William of Nassau,
Am I of German descent
True to the fatherland
I remain until death.
Prince of Orange
Am I, free and fearless
To the King of Spain
I have always given honor."
Verse 6
Old Dutch
Contemporary Dutch
Translation
Mijn schilt ende betrouwen
Zijt ghy, O Godt, mijn Heer.
Op U soo wil ick bouwen,
Verlaet my nimmermeer;
Dat ick doch vroom mag blijven
U dienaer t'aller stondDie tyranny verdrijven,
Die my mijn hert doorwondt.
Mijn schild ende betrouwen
Zijt Gij, o God mijn Heer.
Op U zo wil ik bouwen,
Verlaat mij nimmermeer;
Dat ik doch vroom mag blijven,
Uw dienaar t'aller stond.
De tirannie verdrijven,
Die mij mijn hart doorwondt.
"You, my God and Lord,
Are my shield, on You I rely.
On You I will build,
Never leave me;
So that I may remain pious,
Your servant at all moments.
Dispelling the tyranny.
That wounds my heart."
2- Why Does the Dutch Anthem Mention Duitsen bloed?
It may have surprised you to read that the Dutch national anthem mentions Duitsen bloed in the first verse. This means "German blood" or "German descent". And many Dutch also interpret it this way. However, Germany did not exist yet during Willem van Oranje's life. Some say that it therefore does not refer to Germany but the lowlands area that includes what we now know as the Netherlands and certain areas of Germany, where William of Orange was also born.
3. When is it Played?
The Dutch in general aren't the most nationalistic people out there. However, there are some occasions when they let their national pride flow. And this is often also the moment where Het Wilhelmus is played. 
It's probably most likely that you hear the Dutch national anthem during international sporting events, such as the European or World Cup football tournaments. Another popular event is the Olympic Games, where the Dutch anthem is played when a Dutch sportsman- or woman wins an Olympic gold medal. So especially during the Winter Olympics you might be able to enjoy the Dutch national anthem a few times.
➜ Do you want to celebrate the Olympic Games with the Dutch? Be sure to check out our useful vocabulary lists on the Summer and Winter Olympics. 
Furthermore, there are some rare national moments when the Dutch also sing their anthem. And they all happen to take place around the same period: Koningsdag ("King's day") on the 27th of april, Dodenherdenking ("National Remembrance Day"), on the 4th of May, and Bevrijdingsdag ("Liberation Day") on the 5th of May.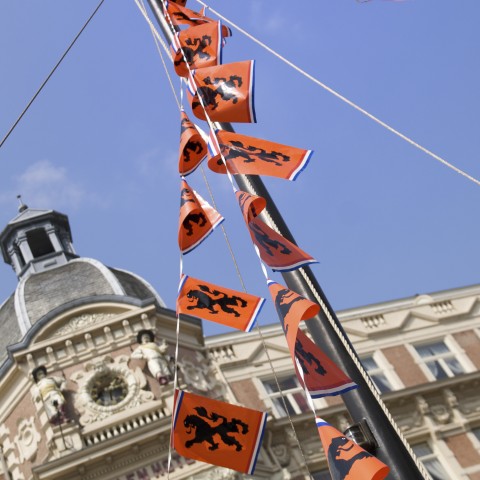 Finally, another moment when the Dutch anthem is played is when the Netherlands hosts a foreign head of state.
4. Should the Netherlands Find a New National Anthem?
As you might already have guessed, the Dutch national anthem is not free of controversy. German blood, the King of Spain and dispelling tyranny: Het Wilhelmus is more of a historical text than a contemporary national anthem. 
Some attempts to modernize the Dutch anthem have been made, for example by a former lady-in-waiting of Queen Beatrix:
Wilhelmus van Nassouwe, 
De Vader van ons land 
Symbool van het vertrouwen,
in onze vaste band. 
Met allen die hier leven, 
In vrijheid en in recht 
Moog dat ons voor altijd zijn gegeven,
zoals ons is toegezegd.
("William of Nassouwe,
The Father of our country
Symbol of confidence,
in our firm bond.
With all who live here,
In freedom and in justice
May we be given that forever,
as promised to us.")
However, this nor any other attempts have been successful. Many still see the Dutch anthem as cultural heritage.
Other arguments against the Netherland's national anthem are related to the difficult melody and lyrics. The rhythm of the song is very slow, making it difficult to sing along. The complex lyrics also do not help: 43% of the Dutch do not know Het Wilhelmus by heart, not even the first verse.
And this also brings us to the core of the problem: many Dutch don't really know their anthem's meaning or the historical references it makes. While it would also get more interesting when you really know what you are singing about.
5. How DutchPod101 Can Help You Learn More Dutch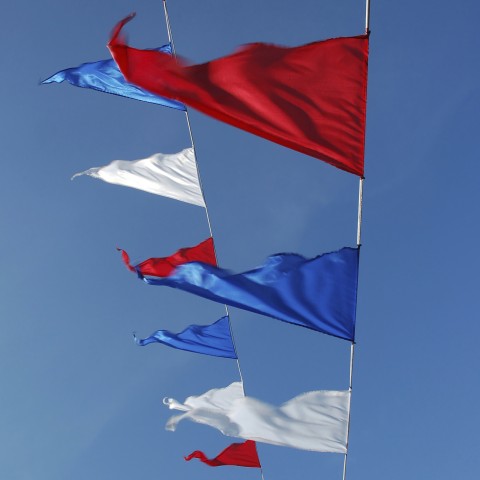 In this guide, you have learned everything about Het Wilhelmus, the Dutch anthem: from its history, lyrics, occasions to some interesting controversies. You now might even know more about the Dutch anthem than many Dutchies do. What do you think about the Dutch national anthem? Do you know any other interesting things about its history that we forgot to mention? Share them with us in the comments!
DutchPod101 hosts a range of vocabulary lists with audio recordings and other free resources to boost your studies.
Would you like some special attention? Remember that we also offer a Premium PLUS service with personal 1-on-1 coaching: MyTeacher. Let your private teacher help you master the Dutch language. You'll receive personalized exercises, constructive feedback, and interactive assignments.
April 23, 2021
The first step in becoming comfortable in another country is to understand its culture. This will help you avoid the so-called 'culture shock' during your stay and make your interactions with natives more enjoyable. Learning about Dutch culture will not only make your experience in the Netherlands that much smoother, but it can also accelerate your language learning!

Well, you've come to the right place to learn everything you need to know about Dutch culture and customs. The Netherlands may be a small country, but it has a lot of culture to discover. It's known for its progressive and explorative spirit, art, architecture, food, and even some special holiday traditions—all of which we'll cover in this handy Dutch culture guide!
Table of Contents
1. Dutch Cultural Values and Beliefs
Every culture has a set of widely shared ideologies that influence the daily lives of its people. Here are just a few key values and beliefs in modern Dutch culture that you should know about.
A- Tolerance (Verdraagzaamheid)
In the Netherlands, tolerance (verdraagzaamheid) is a prominent Dutch cultural value and it's taught to children from a young age. The Dutch tradition of tolerance revolves around having respect for people's freedom of choice regarding their attitudes and beliefs. However, there are parts of the Netherlands that are "more tolerant" than other parts. For example, Randstad and other larger cities tend to show a greater degree of tolerance toward others than smaller cities do. Take Amsterdam, for example. Here, the Dutch tradition of tolerance is clearly noticeable in the streets where you can find gay bars, coffee shops, and the red light district.

Many Dutch people are very proud of their country's progressiveness on social and moral issues, such as LGBTIQ rights, soft drugs, euthanasia, and freedom of speech. However, a more conservative and intolerant attitude has become noticeable in the Netherlands in recent years, with politicians and other people campaigning against migration and other cultures. A study also shows that the younger generations (20-30 years old) are less progressive than the older generations. Nevertheless, many Dutch people still highly value tolerance and open-mindedness. 
B- Pragmatism
The Dutch may be some of the most pragmatic people in the world. 
They're practical, down-to-earth, and realistic in their way of reasoning and approaching things. They tend to rationalize and analyze everything before proceeding with their actions. In addition, they're very functional and try to find the "best way" to do something. This makes them very innovative and explorative in their way of doing things, leading to new inventions and progressive business ideas. This may also make them less spontaneous, more frugal, or even "boring," but the Dutch just love calculating things. This has led them to some great results in business and other sectors.

Don't worry! The Dutch do know how to have fun and relax; their pragmatic side mostly comes up in work situations.
C- Directness
Because they're so pragmatic, the Dutch are also quite direct. 
This Dutch directness is well-known among foreigners, who often have to adjust to this behavior. At first, it may come across as rude, but it does have its positive side. Their honesty and direct communication help them achieve the best results in work and relationships.
Dutch people, in general, will let you know what they think. They don't play games and people are frank if they don't like something. While there are no lies to save your feelings, at least you won't be let down by someone's dishonesty. 
D- Privacy
The Netherlands is a small country with a large population for its size (in fact, it's the country with the highest population density in Europe). This may be why Dutch culture values privacy so much. 
While the Dutch prefer privacy in their homes and workspaces, this longing for privacy also extends to their interactions with other people. This guarded behavior is only relaxed when around friends, family members, or close colleagues. The Dutch need some time to get to know other people before they open up. Try to respect this need for privacy—with time, you'll notice a change in this behavior.

The privateness of the Dutch is related to another Dutch cultural value: modesty. The Dutch don't like to brag about their accomplishments or wealth. They prefer to keep this private so as to promote fairness and equality in Dutch society.
2. Dutch Religions
Compared to many other cultures, religion plays a small role in modern-day Dutch culture and traditions. Still, it's an important element to consider if you want to gain a complete view of the society. Here's what you need to know about religion in the Netherlands! 
A- Religion in Dutch Society
The Netherlands previously had a practice called verzuiling ("pillarization"). This is the segregation of religious, social, and cultural groups through the creation of social and political institutions for each group. These groups would have their own schools, hospitals, newspapers, and TV channels. The (political) leaders of each group collaborated with each other to make sure they all had the same rights and functions, creating a smooth and articulated public life. 
This ideological and religious segregation lasted until the 1970s, after which the Netherlands experienced rapid secularization. Nowadays, religion plays a relatively small role in politics and society. However, you can still see remains of this practice in Dutch society, as there remain to be certain schools and media connected to a certain religion.
B- Dominant Religions in the Netherlands
In the Netherlands, almost half of the population (42%) identifies with no religion. Aside from that, the religiosity of the Netherlands is characterized by its diversity: 23% of the Dutch population is Catholic, 14% are Reformed Protestant, 7% are Dutch Reformed, and 4% are Muslim.
The rapid secularization of the Netherlands in the 1970s led to a decreasing role of religion in Dutch culture. The only real exception would be communities in the Dutch Bible Belt, which runs through and around the cities of Zierikzee, Dordrecht, Utrecht, Zwolle, and Assen. 
On the other hand, one religion that has been growing in the Netherlands is Islam. The majority of Muslims in the Netherlands come from migrant families from North Africa and the Middle East. The Dutch Muslim population mainly lives in the cities of the Randstad.
→ Would you like to learn more about religion in the Dutch language? Have a look at the useful Religion vocabulary list from DutchPod101.
3. Relationships
One major window into other cultures is how different relationships are expected to be viewed, formed, and maintained. In this section, we'll tell you all about the Dutch culture and customs regarding family, couples, friends, and colleagues.
A- Family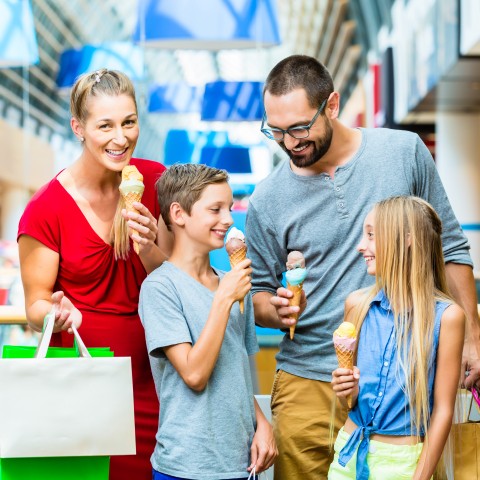 The family serves as the foundation of the Dutch social structure. 
However, families tend to be relatively small with only one or two children. Dutch family culture mainly focuses on the nuclear family, and less on the extended kin. This small group of family members remains important and central to the individual throughout their life. Because different members of a family tend to live close to each other, the Dutch do form relationships with extended family members, but to a lesser degree.
However, in the tolerant Dutch society a lot of other living arrangements and family forms are accepted as well. These include single-parent households, same-sex couples with children, and divorced couples that share responsibility for their children.
In Dutch society, independence is very much stimulated and young people are encouraged to leave their home at the age of 18 to study or work. However, this is not always possible due to increasing university costs and housing shortages in the bigger cities of the Netherlands.
B- Couples
In Dutch culture, dating practices are quite similar to those of other North-European countries or the United States. Throughout high school, teenagers socialize with and date peers from school, the neighborhood, or other social activities. 
The Dutch consider it normal to start dating different people at a young age or to have several relationships before moving in together or marrying. Not all couples marry, although the practice has become a bit more popular among younger generations. It's common for a couple to marry after living together for many years.

The marriage ceremony generally entails two events: a civil registration and a celebration (which is usually a religious ceremony or a wedding party). LGBTIQ couples also have the right to marry. In 2001, the Netherlands was the first country to legalize same-sex marriage.
→ Would you like to find a little Dutch romance? Try our list of the cheesiest Dutch Quotes About Love to express your feelings in Dutch.
C- Friends
Friends play a central role in Dutch culture. As the Dutch are encouraged to be independent from a young age, they're also encouraged to make lasting and reliant friendships. The Dutch often have friends from primary school, high school, university, work, and so on. They have different groups of friends and often see them separately—it's not common to mix these different groups.
Do you want to make a Dutch friend? The Dutch may seem a bit cold or distant at first. It might be difficult to move from acquaintance status to friend status. However, when they open up, the Dutch are very loyal friends. So it's a friendship that is worth the wait (and effort)!
D- Colleagues
In the Netherlands, relationships between colleagues differ from job to job depending on the formality of the workplace or industry. However, Dutch work relationships tend to be formal and quite reserved. They're not very touchy-feely at work and appreciate it if other colleagues remain at a certain (emotional) distance. 
However, once people have been colleagues for a long(er) time, the Dutch open up and some friendships may develop. It's quite common to have lunch together or to have drinks after work every now and then. These are the perfect moments to get to know your Dutch colleagues better.
→ Are you going to work in the Netherlands? Then discover our vocabulary list for Talking About the Workplace, with useful audio recordings to improve your pronunciation.
4. Different Dutch Art Forms
The Netherlands has a diverse cultural sector with a wide range of art forms: painting, architecture, music, television, and more. The Dutch art scene has many home-grown influences, and has also been influenced by many other world cultures.
A- Dutch Painting
The Netherlands has quite the painting legacy, with artists like Rembrandt van Rijn and Vincent van Gogh lining the halls of its history. While the seventeenth century painter Rembrandt van Rijn is known for the Night Watch (De Nachtwacht) and his use of light and shadows, the nineteenth century painter Vincent van Gogh is known for the Sunflowers (Zonnebloemen) and his impact on the development of modern art. 
Other great painters from the Netherlands include still-life artist Johannes Vermeer and geometrical pioneer Piet Mondrian. 
If you want to see the masterpieces of these and other painters, you can visit one of the many museums in Amsterdam: 
Rijksmuseum (Rembrandt and Vermeer)
The Van Gogh Museum
The Stedelijk Museum (contemporary art)
There are great museums in other cities as well, such as the Haags Gemeentemuseum (Mondrian) and the Mauritshuis (Rembrandt and Vermeer) in the Hague. Another great option is the Kröller-Muller Museum (impressionism, expressionism) in Otterloo.   
B- Dutch Architecture
The Dutch love architecture, both old and new. In the Netherlands, you can enjoy a lot of architectural pearls, as the Dutch have mastered this art form. This is shown in the country's architectural landscape, from Pieter Post and his Dutch Baroque works to the twenty-first century practitioners such as Rem Koolhaas. But let's not forget the De Stijl architect Gerrit Thomas Rietveld either, who designed The Schroeder House in Utrecht, which is an UNESCO World Heritage Site.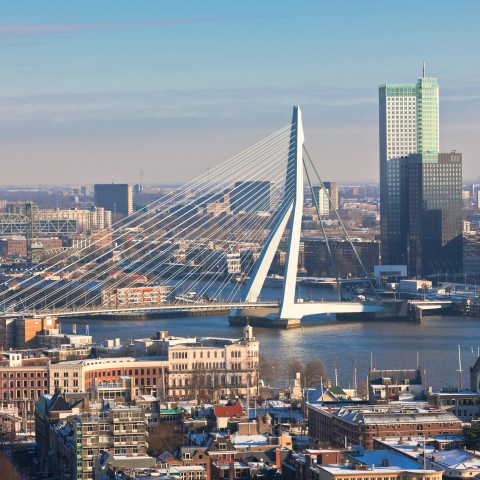 C- Dutch Music
The first thing you should know about Dutch music culture is that the Dutch have a strange relationship with music from their home country. Some may not listen to it at all, some may prefer music from abroad, and still others may prefer Dutch music sung in English. Of course, there are also fans of Dutch music sung in Dutch, but the Dutch tend to listen more to foreign music. 
Let's dissect the music scene a bit:
On the pop and rock music scene, you can find artists who sing in English (Anouk and Kane) and artists who sing in Dutch (Jan Smit and André Hazes). The latter type of music is labeled volksmuziek ("folk music"), and it's highly sentimental. Other popular Dutch pop, rock, and indie artists that sing in Dutch include Eefje de Visser, Doe Maar, Bløf, and Spinvis.
There's a booming Dutch hip hop (Nederhop) scene, where rappers like Fakkelbrigade rap in Dutch. 
Last but not least, we have to mention the Dutch influence on electronic music as well, with the most famous names being Tiesto and DJ Hardwell.
D- Dutch Television & Films
The Dutch film industry is relatively small and there is very little international interest in Dutch films. For these reasons, the industry depends greatly on state funding. Popular Dutch movies are: Turks Fruit, All Stars, Soldaat van Oranje, Ciske de Rat, and Alles is Liefde. 
On Dutch television, you can watch a lot of foreign programs (with Dutch subtitles) and a lot of Dutch sitcoms, game shows, and soaps. The most famous Dutch soap is Goede Tijden, Slechte Tijden ("Good Times, Bad Times"), and a typical Dutch TV show is Boer Zoekt Vrouw ("Farmer Looks for Wife"). And yes, as the name implies, it's a Dutch dating show for farmers.
5. Dutch Food 
Dutch cuisine has several influences from abroad, but there are also some authentic Dutch dishes and unique Dutch food products that you should definitely try when visiting the Netherlands.
A- Top 5 Dutch Dishes
Here is a selection of five delicious Dutch dishes you should definitely try:





Would you like to learn how to order food in Dutch restaurants? Then have a look at this practical list of the Most Useful Phrases and Vocabulary for Ordering Food or this Restaurant vocabulary list.
B- Some Unique Dutch Products
Dutch cheese is a national pride. The Dutch simply love their cheese. They mainly eat it on bread—boterham met kaas ("slice of bread with cheese")—but they also enjoy it as a snack, or blokjes kaas ("little cubes of cheese"). Next time you're in the Netherlands, try the world-famous Dutch Goudse kaas ("Gouda cheese"). There are a lot of tasty Dutch cheeses to try, but Gouda is the true classic.
You'll also find that the Dutch have a sweet tooth, so there are a lot of unique Dutch sweets you should try: 
stroopwafel ("syrup waffle") – the most famous Dutch cookie
hagelslag – sprinkles which the Dutch mainly use to sprinkle on their bread
drop ("liquorice") – can be sweet or salty
Would you like to learn more about Dutch food? Then you can't miss our tasty guide to traditional Dutch food.
6. Dutch Holidays 
Even a basic knowledge of the national holidays and traditions will give you a better understanding of the culture of the Netherlands. There are many different Dutch holidays, so we'll just cover the most important ones here.
A- King's Day
Koningsdag ("King's Day") is celebrated on April 27, three days before the birthday of the Dutch King Willem-Alexander. Prior to this, the holiday was called Koninginnedag ("Queen's Day") and celebrated on April 30. It's a national holiday involving a lot of flea markets, parties, and traditional activities. Every year, the royal family visits a different city. 
→ Check out our King's Day word list for useful vocabulary about this Dutch holiday!
B- Liberation Day
Bevrijdingsdag ("Liberation Day") is when the Dutch celebrate their liberation during World War II. It has been celebrated on May 5 every year since 1945 and it was declared a national holiday in 1990. Many cultural activities are planned on this Dutch holiday, such as bevrijdingsfestivals ("Liberation Day festivals") with music and other activities. 
→ Would you like to expand your Dutch vocabulary? Have a look at our Liberation Day word list and celebrate this holiday like a true Dutchie.
C- Sinterklaas
The Dutch have their own Santa Claus: Sinterklaas. Three weeks before December 5, he arrives by steamboat with his helpers de Pieten. Their arrival is shown live on television, but a lot of children and their parents also go to the docks to see it in person. For the next three weeks, Sinterklaas and his helpers visit children at school or leave behind some sweet treat during the night. Then on December 5 (his birthday), he comes by their houses with even more presents.
D- Christmas and New Year's Eve
Kerst ("Christmas") in the Netherlands is celebrated on December 25 (eerste kerstdag, "first Christmas day") and December 26 (tweede kerstdag, "second Christmas day"). Both are national holidays, spent with family over a nice Christmas dinner (or lunch).

Oudejaarsavond ("Old Year's Evening") is mostly celebrated with family and/or friends. People eat oliebollen ("Dutch doughnuts"), drink some bubbles, and set off fireworks. The Dutch also have a crazy tradition on New Year's Day, where people go to the beach to take a New Year's Dive (nieuwjaarsduik) in the ice-cold seawater.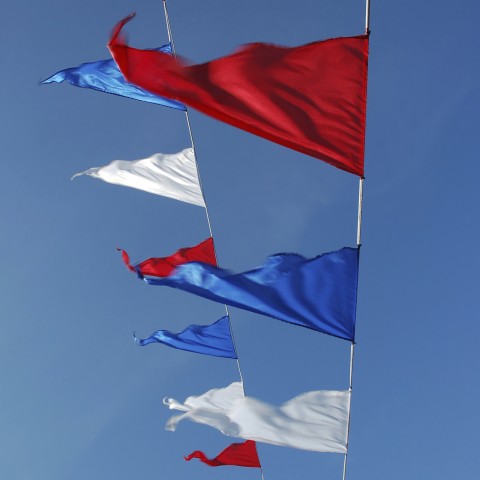 7. How DutchPod101 Can Help You Learn More Dutch
In this Dutch culture guide, you've learned the basics concerning Dutch culture and customs, from values and beliefs to relationships and food. Do you feel like you understand the Dutch culture a bit better? Do you think it will inspire you to improve your Dutch learning even more? We encourage you to make some use of the insight and knowledge we've provided here!
Make sure to explore DutchPod101.com and our multiple vocabulary lists with audio recordings and other free resources. Our aim is to help you understand the Dutch language and culture even more. 
Remember that you can also use the DutchPod101 Premium PLUS service, MyTeacher, to get personal one-on-one coaching so that you can really master the Dutch language. You'll have your own private teacher who will help you with your pronunciation, review your work, and discuss any Dutch cultural topic you want to know more about. 
Happy learning!