Have you read DutchPod101's articles on 100 Nouns, 100 Adjectives, and Pronouns? By reading this series of articles, you'll slowly but surely learn more and more about the Dutch language. Learning a language is like completing a big puzzle, piece by piece. Nouns, adjectives, and pronouns are of course crucial pieces, but how can you use them without knowing some common Dutch verbs? 
Have you ever been in a situation where you were trying to speak Dutch using the words that you just learned, but you were incapable of expressing yourself because you didn't remember a verb? Verbs are a vital part of speech for connecting words. By learning some key Dutch verbs, you'll expand your capacity to build phrases, creating a good basis for your daily interactions in Dutch. 
Don't despair, the help of DutchPod101 is near! We present to you this article on the top 100 most common Dutch verbs. To help you even more, we'll start by giving you some useful tips to help you understand and master Dutch verbs. 
Table of Contents
1. Mastering Dutch Language Verbs
Are you a bit intimidated by Dutch verbs and grammar? Are you unsure of how to start and where to start? Don't worry. With some easy tips and tricks, we'll help you master Dutch verbs.
A. How can you recognize a Dutch verb?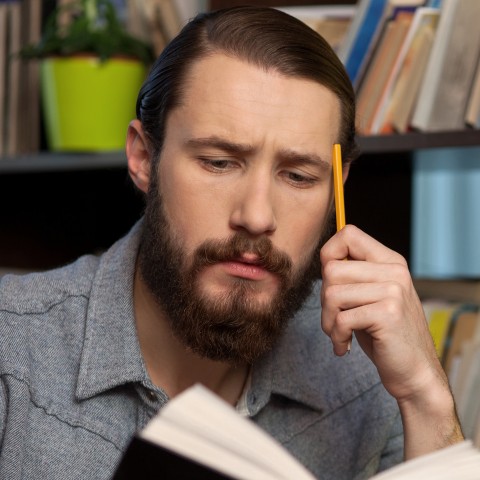 So, let's start at the beginning: What is a verb? Verbs are action words. In sentences, these action words describe what the subject is doing. Therefore, verbs, together with nouns, are a crucial part of a sentence. Even the most simple sentences have a verb! For example: 
"I am Tom."
A verb can also be a sentence on its own: 
"Sing!"
or 
"Come!"
So how can you recognize verbs? You can recognize them by looking for the part of the sentence that explains the action taking place. This can either be something that someone is doing, such as in the words rennen ("to run"), eten ("to eat"), and gaan ("to go"), or something that happens, such as in the words sneeuwen ("to snow") or waaien ("to blow"). 
However, there also exist verbs that don't include such a clear action. For example, these can be verbs that describe an opinion, an emotion, a possession, or a state of being: voelen ("to feel"), zijn ("to be"), hebben ("to have"), or houden van ("to love").
Another way to recognize a verb is to find its location compared to the subject. In sentences, verbs almost always come after a noun or pronoun (the subject): 
"He thinks about school."
B. What is the Dutch infinitive?
What is the entire verb (the infinitive) in Dutch? Well, Dutch infinitive verbs are the plural and present tense verbs. They usually end with -en, as in lopen ("to walk"). Sometimes, they end with only -n, as in zijn ("to be").
Before the Dutch infinitive, you can almost always put Ik kan ("I can"): 
"I can cycle."
or 
"I can work."
C. The Dutch verb tenses
So, how many tenses are there in Dutch?
Dutch has two main tenses: the present and the past. However, there exist some "semi-tenses" that appear when these two tenses (present or past) interact with a mood (factual or hypothetical) or an aspect (temporary or continuing). Through these combinations, six other tenses are created, giving Dutch a total of eight basic tenses:
The eight tenses of the verb praten ("to talk")
1. Onvoltooid tegenwoordige tijd ("Present Simple")
Ik praat
"I talk"
2. Onvoltooid verleden tijd ("Past Simple")
Ik praatte
"I talked"
3. Voltooid tegenwoordige tijd ("Present Perfect")
Ik heb gepraat
"I have talked"
4. Voltooid verleden tijd ("Past Perfect")
Ik had gepraat
"I had talked"
5. Onvoltooid tegenwoordige toekomende tijd ("Future Simple")
Ik zal praten
"I will talk"
6. Voltooid tegenwoordige toekomende tijd ("Future Perfect")
Ik zal hebben gepraat
"I will have talked"
7. Onvoltooid verleden toekomende tijd ("Conditional")
Ik zou praten
"I would talk"
8. Voltooid verleden toekomende tijd ("Conditional Perfect")
Ik zou hebben gepraat
"I would have talked"
Is this Dutch conjugation table a bit intimidating? Praten is one of the Dutch regular verbs—it can get more complicated for irregular verbs. Don't worry, let's take it step by step. It gets easier when you start learning the logic and patterns of Dutch grammar and verbs.
D. How to learn Dutch verbs effectively
So let's take a step back and first give you an idea of the most common Dutch verbs. Don't worry yet about Dutch verb conjugation, the rules and the exceptions. Pass through this Dutch verbs list of 100 must-know verbs and ask yourself the following questions: 
How does the infinitive end?
How does it end now that it's conjugated with a pronoun?
Is it like one of the Dutch regular verbs, or could it be irregular?
To keep it easy, we'll stick to the Tegenwoordige tijd ("Present Simple") for all of the examples in this article.
Last but not least, look for the basic and most useful Dutch verbs, like the verb "to have" in Dutch (hebben), or "to be" (zijn). These are the first verbs you should know when you start to learn Dutch.
2. The 100 Most Useful Verbs in Dutch
Let's start diving into the 100 most useful Dutch verbs. To create a logical Dutch verb list, we've listed the verbs in alphabetical order (based on the Dutch spelling). This way, you can easily find the verb you're looking for.
1.
Accepteren
"To accept"
Ik accepteer het aanbod.
"I accept the offer."
2.
Annuleren
"To cancel"
Wij annuleren onze vakantie.
"We cancel our holiday."
3.
(Be)antwoorden
"To answer"
Ik antwoord je bericht nu.
"I answer your message now."
4.
Arriveren
"To arrive"
De trein arriveert.
"The train arrives."
5.
Beginnen
"To start"
Hij begint vandaag met zijn nieuwe werk.
"He starts today with his new work."
6.
Begrijpen
"To understand"
Zij begrijpt haar vriendje.
"She understands her boyfriend."
7.
Bijten
"To bite"
De hond bijt de kat.
"The dog bites the cat."
8.
Blijven
"To stay"
Ik blijf vandaag thuis.
"I stay at home today."
9.
Bouwen
"To build"
De bouwvakkers bouwen mijn huis.
"The builders build my home."
10.
Brengen
"To bring"
De bezorger brengt ons onze pizza.
"The delivery driver brings us our pizza."
11.
Denken
"To think"
Ik denk aan jou.
"I think about you."
12.
Doen
"To do"
De man doet huishoudelijk werk.
"The man does housework."
13.
Douchen
"To shower"
Het kind doucht niet graag.
"The child doesn't like to shower."
14.
Draaien
"To turn"
Ik draai me om.
"I turn around."
15.
Eten
"To eat"
Wij eten altijd om 6 uur 's avonds.
"We always eat at six o'clock in the evening."
16.
Foto's maken
"To take pictures"
De jongen maakt foto's van bands.
"The boy takes pictures of bands."
17.
Gaan
"To go"
Wij gaan morgen op vakantie.
"We go on holiday tomorrow."
18.
Gebruiken
"To use"
Ik gebruik voor mijn werk de nieuwste gadgets.
"I use the newest gadgets for my work."
19.
Geloven
"To believe"
Zij gelooft in mij.
"She believes in me."
20.
Geven
"To give"
Hij geeft me altijd cadeautjes voor mijn verjaardag.
"He always gives me presents for my birthday."
21.
Halen
"To get"
De vrouw haalt brood bij de bakker.
"The woman gets bread at the bakery."
22.
Hangen
"To hang"
De klok hangt aan de muur.
"The clock hangs on the wall."
23.
Hebben
"To have"
De vrouw heeft te veel spullen in haar handen.
"The woman has too many things in her hands."
Here it is, the verb "to have" in Dutch. Learn this to improve your basic speaking skills!
24.
Helpen
"To help"
We helpen het oude vrouwtje met oversteken.
"We help the old lady with crossing the road."
25.
Herinneren
"To remember"
Ik herinner me het als de dag van gisteren.
"I remember it as if it were yesterday."
26.
Heten
"To be called"
Hij heet Mathias.
"He is called Mathias."
27.
Horen
"To hear"
We horen heel veel roddels over jou.
"We hear a lot of gossip about you."
28.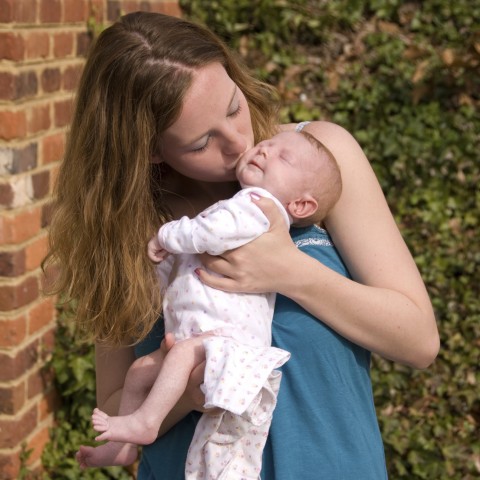 Vasthouden
"To hold"
Het meisje houdt een baby vast.
"The girl is holding a baby."
Vasthouden is one of the Dutch separable verbs. Let's see if you can find more of them!
29.
Houden van
"To love"
Hij houdt van zijn werk.
"He loves his work."
30.
Kennen
"To know"
Zij kennen hun buren al sinds jaren.
"They've known their neighbors for many years."
31.
Kijken naar
"To watch"
Wij kijken naar het programma op tv.
"We watch the show on the television."
32.
Klimmen
"To climb"
Het jongetje klimt in de boom.
"The boy climbs the tree."
33.
Koken
"To cook"
Hij kookt erg goed.
"He cooks very well."
34.
Komen
"To come"
We komen vandaag niet naar huis.
"We are not coming home today."
35.
Kopen
"To buy"
Ik koop mijn kleding altijd online.
"I always buy my clothes online."
36.
Kunnen
"Can"
Wij kunnen goed samenwerken.
"We can work together very well."
37.
Kwetsen
"To hurt"
Ik kwets je niet graag.
"I don't like to hurt you."
38.
Lachen
"To laugh"Lachen
"To laugh"
Wij lachen om de grapjes van onze vader.
"We laugh at our father's jokes."
39.
Laten
"To let"
Wij laten onze kinderen hun eigen beslissingen maken.
"We let our kids make their own choices."
40.
Leren
"To learn"
Ik leer Nederlands.
"I learn Dutch."
41.
Lesgeven
"To teach"
Ik geef Nederlandse les.
"I teach Dutch."
Yes! Lesgeven is another one of the Dutch separable verbs!
42.
Leven
"To live"
Hij leeft in alle luxe in Amsterdam.
"He lives in luxury in Amsterdam."
43.
Lezen
"To read"
Wij lezen veel boeken op vakantie.
"We read a lot of books on holiday."
44.
Liggen
"To lie"
De baby ligt in zijn ledikant.
"The baby lies in his crib."
45.
Lopen
"To walk"
Wij lopen samen door de stad.
"We walk together through the city."
46.
Luisteren (naar)
"To listen to"
Ik luister naar de muziek van de Beatles.
"I listen to the music of the Beatles."
47.
Maken
"To make"
Hij maakt kunst.
"He makes art."
48.
Moeten
"To have to"
Je moet naar me luisteren.
"You have to listen to me."
49.
Mogen
"To be allowed to"
Mijn zoon mag in de avond TV kijken.
"My son is allowed to watch television in the evening."
50.
Nemen
"To take"
Ik neem altijd zonnebrandcrème mee naar het strand.
"I always take sunscreen to the beach."
51.
Nodig hebben
"To need"
Je hebt me niet nodig.
"You don't need me."
52.
Ontvangen
"To receive"
We ontvangen vandaag het pakketje.
"We receive the package today."
53.
Openen
"To open"
Hij opent de brief.
"He opens the letter."
54.
Opmerken
"To notice"
Zij merkt me niet op.
"She doesn't notice me."
55.
Plannen
"To plan"
Ik plan de bruiloft van mijn zus.
"I plan the wedding of my sister."
53.
Praten
"To talk"
Wij praten over onze gevoelens.
"We talk about our feelings."
57.
Proberen
"To try"
Mijn broer probeert zich te concentreren.
"My brother tries to concentrate."
58.
Rennen
"To run"
De jongen rent door het bos.
"The boy runs through the forest."
59.
Rijden
"To drive"
We rijden in de auto.
"We drive the car."
60.
Rusten
"To rest"
Mijn oma rust op bed.
"My grandmother rests in bed."
61.
Schrijven
"To write"
Jij schrijft hem een brief.
"You write him a letter."
62.
Slapen
"To sleep"
Ik slaap 8 uur per dag.
"I sleep eight hours a day."
63.
Spelen
"To play"
De kinderen spelen samen.
"The kids play together."
64.
Spreken
"To speak"
De baas spreekt met zijn werknemers.
"The boss speaks with his employees."
65.
Springen
"To jump"
De kat spring op de kast.
"The cat jumps on the cupboard."
66.
Staan
"To stand"
Ik sta naast mijn broer.
"I stand next to my brother."
67.
Studeren
"To study"
Wij studeren voor ons examen.
"We study for our exam."
68.
Sturen
"To send"
Het bedrijf stuurt me de rekening per post.
"The company sends me the bill by mail."
69.
Telefoneren
"To call"
Ik telefoneer elke dag met mijn zus.
"I call my sister everyday."
70.
Tekenen
"To draw"
Het jongetje tekent een draak.
"The boy draws a dragon."
71.
Terugkeren
"To return"
De soldaat keert terug naar huis.
"The soldier returns home."
Terugkeren is another one of the Dutch separable verbs.
72.
Tillen
"To carry"
De moeder tilt haar zoon.
"The mother carries her son."
73.
Trekken
"To pull"
Haar vriendin trekt aan haar jas.
"Her friend pulls her jacket."
74.
Uitleggen
"To explain"
De lerares legt de Nederlandse grammatica en werkwoorden uit.
"The teacher explains the Dutch grammar and verbs."
Bingo! The verb uitleggen is also one of the Dutch separable verbs.
75.
Vallen
"To fall"
Ik val van de trap.
"I fall down the stairs."
76.
Vangen
"To catch"
De rugbyspeler vangt de bal.
"The rugby player catches the ball."
77.
Voelen
"To feel"
Ik voel me niet lekker.
"I don't feel well."
78.
Vergeten
"To forget"
Hij vergeet zijn huiswerk.
"He forgets his homework."
79.
Verlaten
"To leave"
De vrouw verlaat haar man.
"The woman leaves her husband."
80.
Verslaan
"To beat"
Ik versla je gemakkelijk in dit spel.
"I beat you easily in this game."
81.
Vertellen
"To tell"
Wij vertellen je de waarheid.
"We tell you the truth."
82.
Verwijzen
"To refer"
De dokter verwijst haar naar een specialist.
"The doctor refers her to a specialist."
83.
Verzamelen
"To collect"
De kinderen verzamelen stickers.
"The kids collect stickers."
84.
Vinden
"To find"
Ik vind mijn sleutels in de la.
"I find my keys in the drawer."
85.
Vragen
"To ask"
Jij vraagt me uit.
"You ask me out."
86.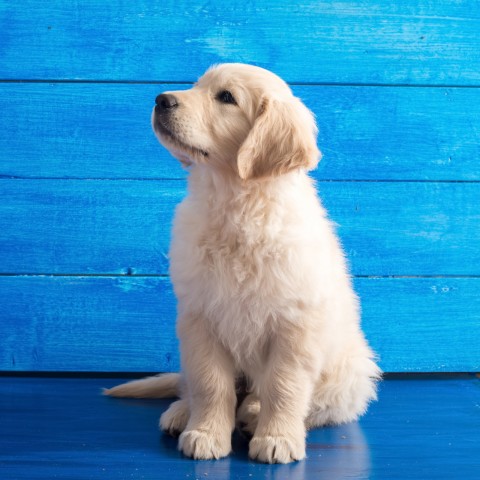 Wachten op
"To wait for"
De hond wacht thuis op zijn baasje.
"The dog waits for his owner at home."
87.
Wakker worden
"To wake up"
Ik word wakker met een lach.
"I wake up smiling."
88.
Wassen
"To wash"
Hij wast zijn handen voor het avondeten.
"He washes his hands before dinner."
89.
Wensen
"To wish"
Ik wens je een leuke verjaardag.
"I wish you a nice birthday."
90.
Werken
"To work"
Wij werken te veel.
"We work too much."
91.
Weten
"To know"
Mijn vader weet niets van technologie.
"My father knows nothing about technology."
92.
Willen
"To want"
Het stel wilt trouwen.
"The couple wants to get married."
93.
Wonen
"To live"
Ik woon in Nederland.
"I live in the Netherlands."
94.
Worden
"To become"
Mijn vriendin wordt binnenkort zwanger.
"My girlfriend will become pregnant soon."
95.
Zeggen
"To say"
Hij zegt dat hij van haar houdt.
"He says that he loves her."
96.
Zien
"To see"
Ik zie je op de foto.
"I see you in the picture."
97.
Zijn
"To be"
Ik ben verdrietig.
"I am sad."
As you can see, the verb "to be" in Dutch isn't one of the Dutch regular verbs, it's irregular. This is one of the first verbs you should learn, as it's one of the most basic ones! Find here the Dutch verb conjugation of the verb zijn.
98.
Zingen
"To sing"
Wij zingen altijd tijdens het koken.
"We always sing while cooking."
99.
Zitten
"To sit"
Jij zit op de bank.
"You sit on the couch."
100.
Zoeken
"To look for"
Zij zoeken hun hond.
"They look for their dog."
→ Do you need help with Dutch verb conjugation? Use an online verb conjugator, or check out DutchPod101's upcoming article on how to conjugate Dutch verbs!
3. How DutchPod101 Can Help You Learn Better Dutch
In this guide, you've learned all about Dutch verbs: recognizing Dutch verbs, understanding the infinitives, and even having a little peek into the different Dutch tenses. And as the icing on the cake, this guide offered you a wide selection of the 100 must-know Dutch verbs, with some useful examples to get familiar with them.
Are you ready to start using your new Dutch verbs vocabulary in your daily conversations with the Dutch? Or do you need some more help?

DutchPod101 has much more to offer, such as the multiple vocabulary lists with audio recordings and other free resources. Boost your Dutch with these easy and useful DutchPod101 tools.
Want more? DutchPod101 also has the MyTeacher premium service. Let your own private teacher help you practice Dutch grammar, verbs, and Dutch verb conjugation, through personalized exercises, fun assignments, and useful recorded audio samples. Improve your Dutch quickly with this personal one-on-one coaching.
Happy learning!