Can you imagine going to a meeting in the Netherlands' business world without having any idea about Dutch business customs? Or going into a formal situation and not knowing how to use the formal "you"? (Yes, it's U, but do you know how to conjugate it?) 
The business world varies from country to country, and even within a single country, there's a big difference between the formal and informal worlds. So although you can handle yourself in the Netherlands in casual settings, you might need to study business Dutch phrases and get some useful tips on Dutch business etiquette before starting work there.
Spare yourself all of the awkward situations by getting prepared with these thirty-two useful Dutch business phrases. In this guide, you'll learn all the phrases you need for a variety of work-related situations, from nailing your job interview to going on business trips. 
Let's get down to business in the Netherlands!
Table of Contents
1. Formal Greetings, Introductions, and Goodbyes
Before we dive into the more-specific Dutch business phrases, let's first cover the basics: the formal greetings, introductions, and goodbyes. We'll even let you know which form of "you" to use.
1- Greetings
When greeting someone, a handshake is the way to go in formal situations. So, when meeting someone in a business setting, give that person a handshake and combine it with one of the following greetings:
1. Dag. ("Hello.") 
This is the perfect basic greeting, and it works in almost any situation. It's neither too formal nor too relaxed, so you can't go wrong with it.
2. Dag, aangenaam kennis te maken. ("Hello, nice to meet you.") 
This is the perfect formal greeting when you're meeting someone for the first time.
3. Goedemorgen. / Goedemiddag. / Goedenavond. ("Good morning." / "Good afternoon." / "Good evening.") 
Of course, you should use these according to the time of day (until twelve p.m., until six p.m., and until twelve a.m., respectively).
2- Introductions
You've said your greetings, so now it's time to let them know your name:
4. Ik ben ___. ("I am ___.")
Simply put your name in the blank. For example: Ik ben Robert Green or Ik ben Valentina Blanco.
It's not the most formal introduction, but it is the most common one. Using your first and last name makes it more formal (and it's also the norm in the Netherlands' business world to introduce yourself with your last name). 
3- Goodbyes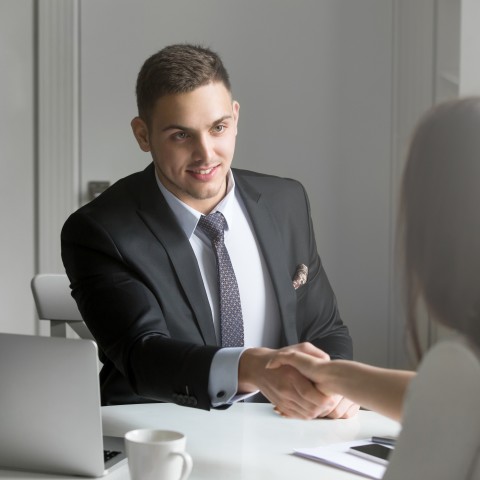 The conversation is over, so make your good impression last with a smooth goodbye. In general, it's polite to shake hands while saying one of these goodbyes:
5. Dag. ("Goodbye.") 
Yes, this also means goodbye. It's a basic Dutch goodbye that can be used in almost any situation, including many business settings.
6. Tot ziens. ("See you.")
Although it doesn't sound very formal in English, in Dutch, this goodbye can definitely be used in more-formal situations. People use this phrase when they know that they'll see the other person again (not hypothetically; the Dutch take these things quite literally).
7. Het was leuk u te ontmoeten. ("It was nice to meet you.") 
This is a friendly thing to add when saying your goodbyes to someone you've just met for the first time. But be aware that it's not appropriate for all situations. Dutch people are not fake, so only use it when you're being real.
4- Jij or U?
You now know how to greet, introduce yourself, and say your goodbyes in Dutch. But before moving on to more-complicated Dutch business phrases, we want to clear up any doubts about the Dutch "you."
In Dutch, there are two distinct pronouns for "you": Jij (casual "you") and U (formal "you"). Whenever in doubt, you can't go wrong with U. This is especially the case when you're talking to someone older than you.
In the Netherlands, there are no strict rules on when to use which pronoun; it depends on the people, the business, or the branch of work you're in. A simple rule is to follow the lead of the other person. If they use Jij when addressing you, answer with Jij. Otherwise, just stick to the formal U. 
2. Nailing a Job Interview
If there's one situation where you'll need to up your Dutch business phrases game, it's definitely a job interview. 
The great thing about job interviews is that you normally have a few days to prepare for it. This gives you plenty of time to look up all of the Dutch phrases for business you think you'll need to express who you are and what you do. If you want a head-start, make sure you check out our special introduction article.
Optimize your skills even more with these useful Dutch business phrases for nailing a job interview:
8. Ik heb jarenlange ervaring met ___. ("I have years of experience with ___.") 
9. Ik onderscheid me in mijn werk door ___. ("I distinguish myself in my work by ___.")
10. Ik ben geïnteresseerd in deze baan omdat ___. ("I am interested in this job because ___.")
What should you do if you don't understand the interviewer? Ask him or her to repeat the question (but don't ask too many times):
11. Zou u uw vraag nog een keer kunnen herhalen? ("Could you repeat your question, please?") 
Now it's time to end the conversation with an appropriate job interview goodbye (with a handshake, of course):

12. Bedankt voor het gesprek. ("Thank you for the conversation.")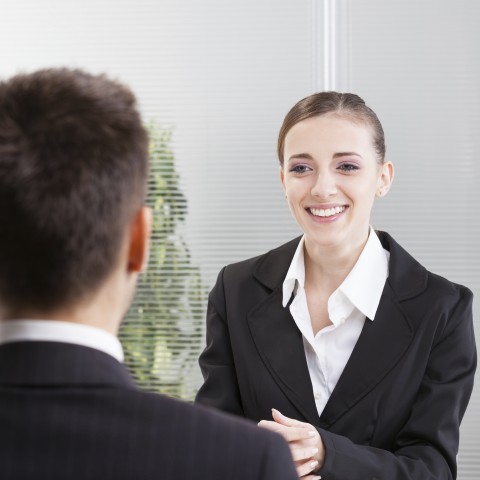 3. Interacting with Coworkers
You aced your interview and you're starting your new job in the Netherlands. Hurray! Now we'll give you some common business phrases in Dutch that you can use to interact with your coworkers.
So, you're new at work and you need some help (understanding how a system works, how to use the printer, or how to make the coffee machine work):
13. Zou je/u mij kunnen helpen? ("Could you help me?")
Whether you use jij or u depends on your workplace, so follow your colleagues' lead. The same applies to the next phrase, which you can use if you want to praise someone's work:
14. Ik ben erg blij met jouw/uw werk. ("I am very happy with your work.") 
This is a more formal compliment that you can say to some of your employees. 
15. Goed bezig! ("Doing good!") 
This is a more casual compliment that works well with coworkers.
16. Bedankt voor de fijne samenwerking. ("Thank you for the nice collaboration.") 
This phrase is most appropriate after you've finished a project with someone, and not if you're going to keep on working with that person.
Are you feeling comfortable with a certain coworker and would like to ask them out for a drink after work sometime? Then the following phrase will come in handy:
17. Heb je zin om na werk wat te drinken? ("Would you like to have a drink after work?")

Doing business with Dutchies isn't all about time spent in the workplace; it's also about forming relationships. In the Netherlands, it's quite common to drink after work on Fridays with colleagues. There's even a word for it: vrijdagmiddagborrel ("the Friday afternoon drinks"). Depending on where you work, though, this afternoon drinking session could take place on a different day.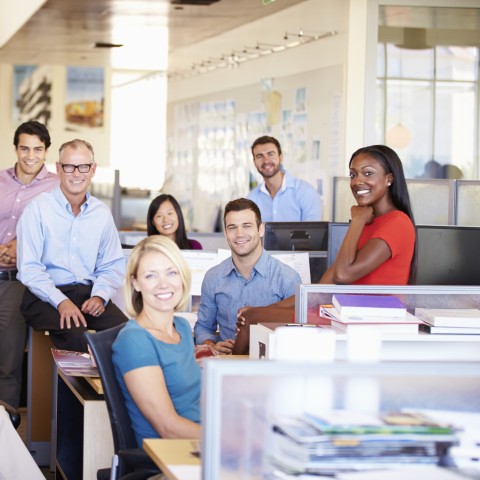 4. Sound Smart in a Meeting
Would you like to sound smart in a meeting? All you need are some smooth but common business phrases in Dutch.
If you're participating in a Dutch business meeting and would like to pitch an interesting idea or solution, throw in one of the following phrases:
18. Ik geloof dat we wel tot een compromis kunnen komen. ("I believe we can find a compromise.")
19. Ik denk dat ik wel een oplossing kan voorstellen. ("I think I can suggest a solution.")
If you've just finished your pitch or presentation, then end it with the following phrase:
20. Heel erg bedankt voor jullie aandacht. ("Thank you very much for your attention.") 
Use jullie ("you," plural) if there are several people in the meeting; if not, use uw in its place.
Is there something you would like to discuss in the next meeting? Then you can use this phrase:
21. Kunnen we dit tijdens de volgende vergadering bespreken? ("Can we discuss this matter during the following meeting?")
By using even just one of these bad boys, you'll definitely make an impression with your professional Dutch and your ability to get to the point and present your ideas.
5. Handling Business Phone Calls and Emails
Handling communication in Dutch business settings may be challenging, and you might struggle with which words you should or shouldn't use.

To give you a head start, here are some phrases you'll need when writing a Dutch business email:
22. Geachte heer, mevrouw, ("Dear Sir / Madam,") 
You can start an email this way if you don't know the name or gender of the person you're writing to. If you do know the person's name, you can write, for example: Geachte meneer Janssen ("Dear Mr. Janssen").
Now that you've used the perfect formal email greeting and introduced yourself, you should continue with the following phrase to explain why you're writing this email:
23. Wij schrijven u naar aanleiding van ___. ( "We are writing to you regarding ___.") 
And to end the email in a polite way, use the following phrase:
24. Mocht u meer informatie willen, kunt u altijd contact met mij opnemen. ("If you require any further information, feel free to contact me.")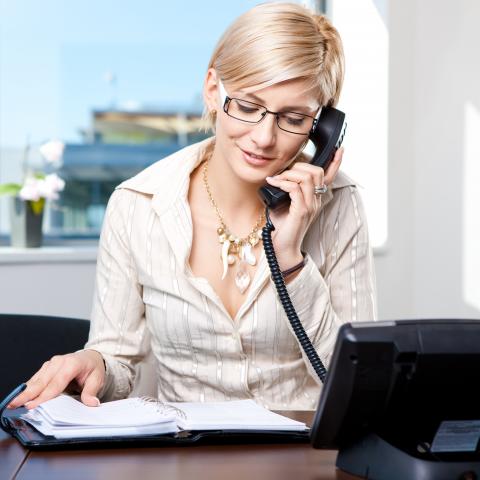 Let's now continue with some useful Dutch for business phone calls:
25. Hallo, u spreekt met ___. ("Hello, you are talking with ___.")
26. Spreek ik met ___? ("Am I speaking with ___?")
27. Ik bel u vanwege ___. ("I am calling you because ___.")
What if someone is calling you, and you're unsure of what to do or how to connect them with someone else? Just use this phrase and put them on hold:
28. Een momentje alstublieft. ("Please wait for a moment.")
6. Going on a Business Trip
Last but definitely not least, what phrases do you need to know for going on a business trip to the Netherlands? 
Let's first have a look at some phrases that can be useful in your hotel or during other moments of your business trip:
29. Ik heb een kamer gereserveerd. ("I have a reservation [for a room].")
30. Ik ben hier voor zaken. ("I'm here on business.")
31. Accepteert u credit cards? ("Do you accept credit cards?")
If your host has been especially helpful and kind to you, then definitely use the following phrase when saying your goodbyes:
32. Bedankt voor de gastvrijheid. ("Thank you for your hospitality.")
7. How DutchPod101 Can Help You Learn More Dutch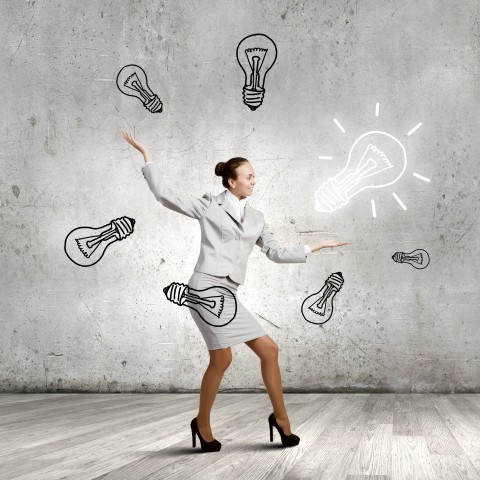 In this guide, you've learned all about business Dutch phrases, from the basics to useful phrases for job interviews, interactions with coworkers, meetings, emails, phone calls, and business trips. Which of these common business phrases in Dutch will you use the most?
Are you ready to get down to business in the Netherlands? Or would you like more help first?
DutchPod101 has many free resources, such as vocabulary lists with audio recordings, to help you prepare for any business setting.
Or do you prefer a private teacher? DutchPod101 also offers personal one-on-one coaching with our Premium PLUS MyTeacher service. Boost your Dutch with your private teacher's interactive exercises, personalized feedback, and useful tips.
Happy learning, and good luck in your business endeavors!