Have you ever visited Amsterdam? It's the most famous Dutch city, and for good reasons. Beautiful architecture, lovely shops, buzzing nightlife, green parks, and a variety of museums make the city of Amsterdam a place anyone can enjoy. 
Your Amsterdam travels will also be a great opportunity to practice your Dutch. Because Amsterdam is such a touristic city, the inhabitants sometimes get a bit tired of the many tourists (especially in the summer). The best way to gain the respect of Amsterdammers (the people of Amsterdam) is through showing respect for the city and its culture—and learning a bit of Dutch is a great way to do this! Locals will definitely appreciate you trying to speak their native language. If in trouble, though, you can always save yourself by switching to English; many people in Amsterdam speak it fluently.
In this useful Amsterdam travel guide from DutchPod101.com, you'll discover the best places to visit in Amsterdam. And if you have some extra time, we'll even give you some great recommendations for places to visit outside of the Dutch capital.
What would you like to visit in Amsterdam?
Table of Contents
1. Before You Go 
Amsterdam is the capital of the Netherlands and also its most populated city, with over 800,000 residents. If you're planning a trip to Amsterdam, then have a look at these useful travel tips! 
When to Go
What's the best time to visit Amsterdam? The best period to visit this city is from April to May. It's spring in the Netherlands, which means nice weather and not too many tourists (as may be the case during summer). The next best time to visit Amsterdam is from September to November; this is after the peak tourist season, but the weather may still be pleasant.
So what about summer or winter? The summer in Amsterdam can be beautiful. It's a fun time with a lot of outdoor entertainment, but the city will be full of tourists. If you don't mind this, you're sure to have fun and meet some interesting people. The winter gets quite cold in the Netherlands, so it may not be the best time to visit Amsterdam. That said, the city becomes really idyllic this time of year with all the beautiful lights and Christmas decorations.
Getting Around
Amsterdam is the city of bikes. Be aware that the Dutch don't play around when it comes to cycling. It's their main means of transport, so if you choose to cycle your way around Amsterdam, try to adapt the best you can to the fast Dutch bike culture.
Other ways to navigate the city are by foot (the city is not that big), tram, metro, train, or bus. If you want to use the impressive Dutch public transport system, then you can buy a reusable card called OV-chipkaart. You can buy it at the machines at the train stations and just top it up; this is much cheaper than buying individual day or hour passes.
Language
In Amsterdam, you can get by without knowing any Dutch—but the more you learn before your trip, the better! Knowing some basic Dutch will allow you to interact with locals (who will appreciate your effort), read signs and menus, and immerse yourself deeper into the culture. The Dutch do speak very good English, so you can always switch to this language in a pinch. 
Sleeping & Eating
The central area of Amsterdam (with the beautiful canal belt) is one of the most well-known areas of the city, but it's also one of the most expensive and touristy areas to stay. Consider lodging within one of the beautiful Amsterdam neighborhoods and get a real taste of how the locals live, from Noord ("North") to Zuid ("South") and Oost ("East") to West ("West"). You can also choose to stay outside of the Ring (that's the highway going round Amsterdam), in Zuid-Oost, Diemen, or Amstelveen. This will be cheaper and it's a quick trip to town by public transport.
Amsterdam has many restaurants to choose from, but try to stay away from the very touristy ones (like those on the big squares or main avenues). Rather, visit Amsterdam like a local and try out some of the cozy, lesser-known pubs or restaurants. 
Dagschotel (Literally "day dish," meaning "daily special") is the dish of the day, and many Amsterdam restaurants feature it on their menu. It's often cheaper than the other dishes listed. Also keep in mind that while you can find traditional Dutch cuisine in older Dutch restaurants, many of the restaurants in Amsterdam have been influenced by several other cuisines. 
Would you like to save some money? Then make use of the many street vendors selling Dutch classics, such as fries, poffertjes, bitterballen, or herring. Alternatively, you could do your own groceries; Dutch supermarkets have all you need to make sandwiches or other easy meals.
Packing Reminders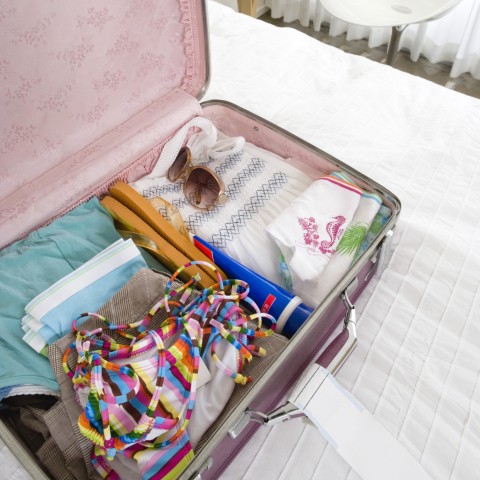 What would you pack for your trip to Amsterdam?
The weather in Amsterdam can change quickly between sun, rain, wind, and cold weather—it can all happen in one day! Prepare yourself by packing well. We recommend bringing an umbrella or raincoat and some clothes that will protect you against the (sometimes harsh) wind. If you go in the winter, bring multiple layers, gloves, scarves, beanies, and thick socks.
Don't forget your EU adapter, either. If you're from outside the EU, you'll need it to charge your mobile, camera, or other gadgets.
2. 10 Things You Must Do in Amsterdam
Whether you're a culture-lover, a shopping addict, crazy about the arts, or a true foodie, you'll find plenty of excitement in this fun capital city. Following is a summary of the very best sights, activities, and places to visit in Amsterdam.
1 – Discover De Jordaan.
De Jordaan is an old volksbuurt (working-class neighborhood) of Amsterdam. If you're looking for the true Amsterdam locals, you'll find them here (although the neighborhood has been gentrified in recent times). It's located on the outside of one of the major canals and is characterized by pretty streets, cool bars, and fun shops. It's the perfect neighborhood to stroll around, take pictures of the beautiful bridges and gorgeous houses, shop along the Westerstraat, and have a bite to eat in one of the many hip bars or restaurants.
The great thing about De Jordaan is that it's very central (and therefore also touristic), but it has kept its authenticity and you can still experience some true local Amsterdam life here.
2 – Take a canal tour.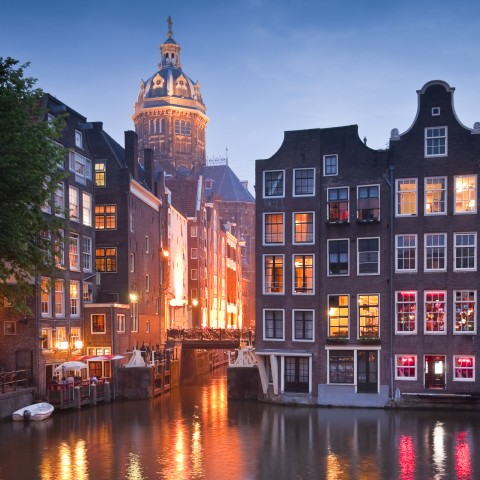 The Dutch canals are beautiful by night
If you want to see Amsterdam in another light, then why not see it from its grachten ("canals")? Take a canal tour to see the city's highlights from around the canal belt and learn something about this historical part of the city. Did you know that the Amsterdam canals date back to the seventeenth century?
Many canal tours start near the Centraal Station ("Central Station"), and you have many different canal tours to choose from: hop-on hop-off rides, tours with audio guides, and more. It's also a great way to get oriented in the city.
3 – Discover Amsterdam by bike.
Amsterdam (and the Netherlands in general) is all about bikes—with reason, it's called the bike capital of the world. So if you want a true Dutch experience, you should ride a bike in the nation's capital. It's a great way to explore the city, both inside and outside the city center. You can either ride on your own or join a bike tour. There are many bike rental shops, so it won't be hard to rent a bike or find a tour.
Whatever you do, stick to the bicycle lane on the right side of the road and respect the other cyclists. The Dutch can go quite fast when cycling, so try to stay out of their way and never stop in the middle of the bike lane to take pictures.
4 – Have a picnic at the Vondelpark.
Vondelpark is the city's largest and most popular park. It's located in southern Amsterdam, close to the famous squares Leidseplein and Museumplein. Amsterdammers and tourists alike love to come here to do sports, have some drinks (there are various restaurants and bars in the park), or have a picnic. In the summer, it's very common for locals to pack a bag with food (and sometimes even a BBQ), some drinks, and a blanket to have a picnic with friends and family.
Amsterdam has many other parks to visit, including Oosterpark, Sarphatipark, and Westerpark. Though these are less iconic, they're definitely worth a visit as well. They tend to be less crowded, and locals who live close by visit these parks to meet friends, enjoy the sun, or have a picnic.
5 – Cross the river to discover Amsterdam-Noord.
Amsterdam-Noord is hip and happening. It's located above the Central Station in northern Amsterdam, and you have to cross the river IJ to get there. But it's all worth it. Taking the free(!) ferry is already an enjoyable experience, and you can even bring your bike. There are a lot of open-air bars, markets, restaurants, and even festivals to discover in the area. 
Amsterdam-Noord has different areas, so make sure to take the right ferry to the right area. One of the areas that's booming is the NDSM Werf ("Wharf"), which is a former shipyard that has become a hip hangout. It has many restaurants and bars as well as a huge flea market (IJ-Hallen) that takes place once a month. 
Another area to visit is just in front of Central Station. Here, you can find the iconic EYE Filmmuseum ("EYE Film Institute"), dedicated to cinema and movie making. You can watch a movie here, enjoy its wonderful exhibitions, or have a bite to eat in its fancy restaurant with a great view.
6 – Visit one of the many markets in Amsterdam.
What tulips would you buy on the Bloemenmarkt?
Amsterdam is home to many markets, from traditional markets to flower markets and vintage markets. The Bloemenmarkt ("Flower Market") is located on one of the canals and can be enjoyed year-round, with tulip stands in the spring and Christmas decorations in the winter. 
If you like vintage markets or flea markets, you need to add the following markets to your Amsterdam itinerary: 
Do you want to visit some traditional Amsterdam markets? Then the Albert Cuyp Markt or Ten Kate Markt are great picks. They feature music and typical Dutch food, such as haring ("herring"). 
And last but not least, the Westergasterrein is a former gas works that has been made into a creative culinary area with a great Sunday market. 
There are even more great markets, but try to visit at least one of the ones we've mentioned when you're in Amsterdam.
7 – Shop at the negen straatjes, a shopping heaven for boutique-lovers.
Do you love to shop? Then the Negen Straatjes is your place to go, boasting many cute shops, gift stores, boutiques, vintage shops, cafés, and restaurants. It's located at the southwestern end of Amsterdam's main canal ring, so it's also a very beautiful area. This alone makes it worth visiting even if you're not a shopaholic. These nine streets are perfect to stroll through, to have a drink in one of the little cafés, or to buy some non-touristy souvenirs.
8 – Visit the famous museums.
The iconic Rijksmuseum
There are lots of great museums in Amsterdam, the most iconic of which are Rijksmuseum, Van Gogh Museum, and the Anne Frank Huis. 
The building of the Rijksmuseum is a landmark in its own right, and inside you'll find a massive collection of great art and artifacts. It's the place to find the works of the Dutch masters (such as Rembrandt), and it also provides insight into the period when the Dutch Empire was created.
The Van Gogh Museum offers great insight into the life and work of this painter, using interactive exhibits to show the evolution of his skills and inspiration. You'll find Van Gogh's most famous paintings here, such as De Zonnebloemen ("The Sunflowers") and De Aardappeleters ("Potato Eaters"). There are also some temporary exhibitions by painters who inspired him or were close to him. 
The Anne Frank Huis shows the house where she, her family, and her friends hid during World War II. It's a moving experience to see how she lived for several years, and it will tell you more about the war in the Netherlands.
In the summer, the lines for these museums can be very long. Luckily, you can buy your tickets online to reserve your visit for a certain day and time. 
9 – Wander around the different neighborhoods of Amsterdam.
The central canal belt is the most touristic area of Amsterdam, but the city has much more to offer. It's in the city's neighborhoods that you can discover its true local life. 
De Pijp is a neighborhood in southern Amsterdam, known for its fun bars and great restaurants. You can also find the Sarphatipark and Albert Cuyp Markt here. 
Oud-West is a multicultural neighborhood with a bohemian vibe. It's home to the Ten Kate Markt, the Foodhallen (an inside food market), and many bars, restaurants, and shops. 
Oost is another multicultural neighborhood that has become very hip and happening over the last few years. It features a great cultural scene, restaurants, and bars, and it's also home to the Oosterpark and Amsterdam's Zoo Artis. 
There are many other neighborhoods that are worth a visit as you explore Amsterdam. Every neighborhood has its own vibe, architecture, and unique sights. 
10 – Discover the diverse cultural scene of the city.
Amsterdam is a great city for culture-lovers, as it has a diverse cultural scene with great exhibitions, live music, theatre, dance performances, cinema, parties, and festivals. Summer is the best time for travelers to be in Amsterdam if they want to discover the city's cultural scene. Visit Amsterdam in summer to enjoy its many festivals: music festivals, open-air cinemas, theatre, food festivals, and the list goes on. The city is also known for its parties and great clubs, which you can enjoy all year round.
3. 3 Must-See Places Just Outside of Amsterdam

Amsterdam has so much to offer, but we suggest you try to discover its surroundings as well. There's a lot to discover close to Amsterdam, so you can easily make a day trip to one of these other great destinations. Here you can discover a quieter way of life, with open fields and the typical Dutch windmills. Or you can discover one of the many other big buzzing cities of the Netherlands. Here's what to visit near Amsterdam if you have the time!
Volendam

Volendam is located in the northern part of the Netherlands, just above Amsterdam. It's a true tourist destination as it's a traditional little fishing town where (some) people still wear traditional clothes. If you want to discover some old Dutch traditions, this is the place to be.
Would you like to visit Volendam?
De Zaanse Schans

De Zaanse Schans is also located above Amsterdam, and it's an area with a lot of old Dutch houses and windmills. With its picturesque location just beside the water, it truly is a beautiful sight. The historical area dates back to the seventeenth and eighteenth centuries, so it really offers some insight into Dutch history. There are old Dutch shops that you can visit, such as an historical cheese maker and grocery store; you can even tour one of the windmills.
One of the other big cities of the Randstad

Amsterdam is located in the Randstad. This is a megalopolis, or in other words, a collection of large cities in close proximity. In addition to Amsterdam, the Randstad includes three of the other largest cities (Rotterdam, The Hague, and Utrecht) as well as their surrounding areas. This means that there are many interesting cities to visit close to Amsterdam, from the modern Rotterdam to the cozy Utrecht, and still on to the political city The Hague.
4. Survival Dutch for Amsterdam Travelers
Even if you don't speak much Dutch, it's always good to greet the locals in Dutch as it will make for a much more positive first impression. Don't worry, though. You can switch back to English after greeting them—they will still appreciate the effort.
| | |
| --- | --- |
| Hallo! | "Hello!" |
| Dag. | "Goodbye." |
| Bedankt. | "Thank you." |
| Nee bedankt. | "No, thank you." |
| Alstublieft. | "Please." |
| Sorry. | "Sorry." |
| Erg goed. | "Very good." |
| Ik wil graag … (bestellen). | "I would like to order …" |
| Hoeveel kost het? | "How much is it?" |
| Waar is de wc? | "Where are the toilets?" |
| Help! | "Help!" |
→ For more useful Amsterdam travel phrases (or to practice their pronunciation), please have a look at the following resources on DutchPod101.com:
| | |
| --- | --- |
| Kunt u dat herhalen (alstublieft)? | "Can you repeat that (please)?" |
| Wat langzamer, alstublieft. | "A bit slower, please." |
| Sorry, ik begrijp u niet. | "I'm sorry, I don't understand you." |
| Spreekt u Engels? | "Do you speak English?" |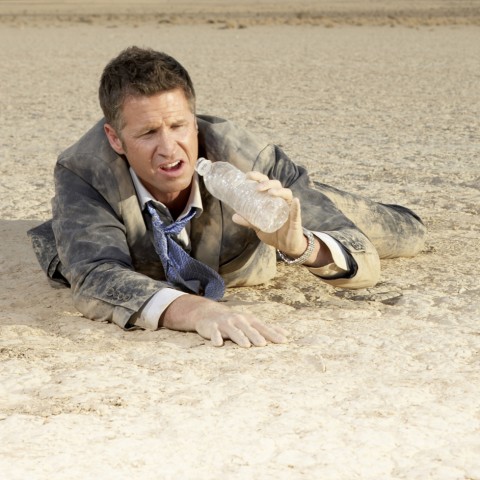 DutchPod101 helps you survive those language barriers.
How DutchPod101 Can Help You Learn More Dutch
In this Amsterdam travel guide, you've learned about the most amazing places to visit in Amsterdam and the best activities to do in this vibrant city. There's so much to do and see here, so definitely try to discover it by bike (in true Dutch style). And if you have some time left, go explore some more Dutch gems just outside of Amsterdam.

Are you already excited to visit the Dutch capital? How will you prepare for your trip?
Make sure to explore DutchPod101.com and our multiple vocabulary lists with audio recordings. We also provide many other useful free resources so that you can practice your grammar and learn new words before your visit to the Netherlands.
Remember that you can also use our Premium PLUS service, MyTeacher, to get personal one-on-one coaching. Your own private teacher can help you prepare for your trip with useful Amsterdam travel phrases and more. He or she will also give you assignments, personalized exercises, and recorded audio samples to help you improve your pronunciation. 
Happy learning and safe travels!